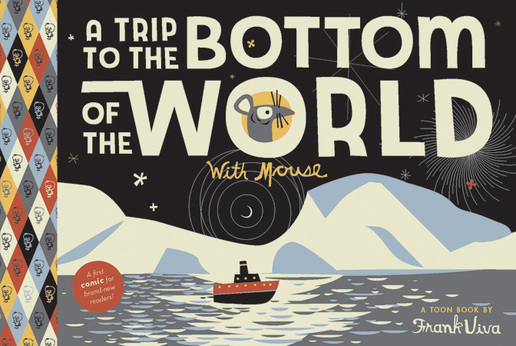 A trip to the Bottom of the World with Mouse
TOON Books / 2012
Auteur·rice : Frank Viva

Les premières lignes/ The first lines :

Are we there yet ?
Soon, Mouse.
Can we go home now ?
Not yet, Mouse.

Contenu / Content:

There's so much to see at the bottom of the world ! Join a young explorer and his best friend, Mouse, on a sea journey to Antarctica, where they make new friends with penguins and a whale-and they have all kinds of fun.
A nice story illustrating discovery, the unexpected, (thermal waters of a submerged volcano), patience and the transformation of a character. There's repetition and change !
A story based on the author's experiences aboard a Russian research vessel.
21,75 euros (prix librairie)
Sélection cycle 3