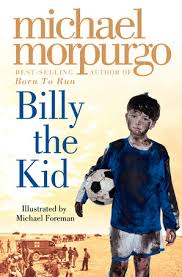 Billy the kid
HarperCollins Children'sBooks / 2002
Auteur·rice : Michael Morpurgo
Illustrateur·rice : Michael Foreman
Les premières lignes / The first lines

I shouldn't be here really, not by rights. I should've been pushing up the daisies a long time ago. But I'm not. I'm here, and I'm eighty years old, eighty years old today. One way or another I've been a lucky old beggar. I've got my eyes, my ears ­all right, they may be a bit on the fuzzy side, but they work­ and I think straight, most of the time. Of course the old knee gives me a lot of grief, but it always has done, ever since the war anyway ... I'm used to it.

Contenu / Contents

Actually, Billy 's no kid... He's an old man, celebrating his eightieth birthday, and it brings back memories. Thus Billy remembers the time when he was a young man, craving to play for Chelsea. He was even picked up for the team, but the second World War broke out, and changed Billy's destiny.

Morpurgo's language is clear, easy to understand. Billy's life hasn't been a bed of roses, the war left wounds that he finds difficult to heal, but he happens to meet people who somehow help him to recover. A nice novel to illustrate the theme « Meeting other people, love and friendship. »
However the story­telling is a bit too fast, and the reader hasn't always got enough time to "settle into the story".
£5.99, 8,80 € (prix librairie)