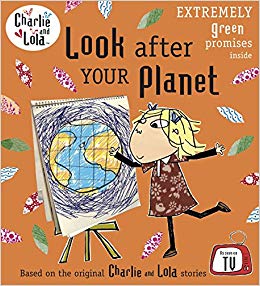 Charlie and Lola : look after your planet
Puffin / 2011
Auteur·rice : Lauren Child

Les premières lignes / the first lines :
I have this little sister Lola. She is small and very funny. Lola loves keeping things. All kinds of things. Boxes, old broken toys… just things.
"Not any more!" says Lola.
I say, "Has it got anything to do with when we went to Marv's house?"
And Lola says, "Mmm, maybe..."
Yesterday, Marv said, "I dare anyone to go into my big brother Marty's room. He doesn't let anyone touch any of his things and he won't throw anything away. Mum says his room looks like a complete pigsty."
Contenu / content :
Lola is clearing out some of her old things because she does not want her bedroom to be as messy and pongy as Marv's older brother Marty's bedroom. Charlie persuades Lola that instead of throwing her things away, she should recycle them. She learns all about recycling and she wants to participate in a recycling competition. And her schoolmates join in.
The collage-style illustrations and the dialogues are lively. Like the "Charlie and Lola" series, Look After Your Planet is a pleasant story which gives a message about how to protect the environment. It offers a great opportunity for pupils to work on a scientific project about sustainable development.
Collection : Charlie and Lola
Prix : 8,32 € / £6.99
Niveaux : cycle 3 / 5e