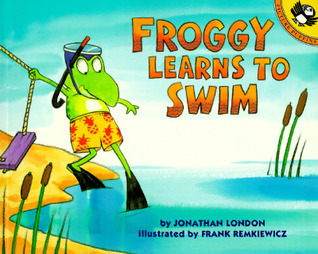 Froggy learns to swim
Puffin Books / 1997
Auteur·rice : Jonathan London
Illustrateur·rice : Franck Remkiewicz
Les premières lignes / The first lines 
It was hot. "It's a great day for a swim!" said froggy's mother. So froggy and his parents flopped outside to the pond – flop flop flop. "On your mark…get…set…go!"
Froggy's father sailed in – Spash! Froggy's mother sailed in – spash! But where was Froggy?
Contenu / Contents 
Froggy is a young frog, but he can't swim and he is afraid of the water. With a little bit of help from his parents and some silly songs he will eventually become more confident. This picture book uses a lot of onomatopoeia which helps to grasp the attention of the young public. The silly songs are quite easy to learn and children can mime and sing altogether. A great book for children in a learning phase.
12,20 euros (prix librairie)
Sélection cycle 3 et 6ème