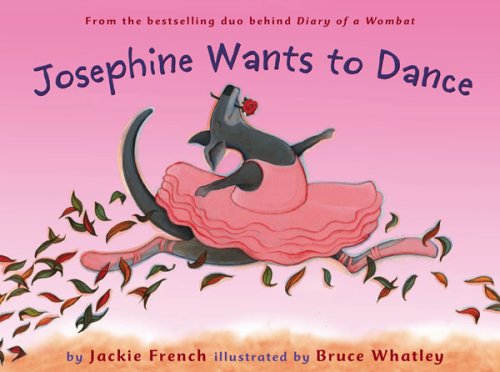 Josephine wants to dance
Harry N. Abrams / 2007
Auteur·rice : Jackie French
Illustrateur·rice : Bruce Whatley
Les premières lignes/ The first lines 
Josephine loved to dance. She danced with the brolgas…and leapt with the lyrebirds.  'Kangaroos don't dance Josephine !' said her little brother Joey. 'They hop'. But Josephine took no notice. The emus showed her how to point her toes. The eagles taught her how to soar to the music of the wind. Josephine whirled like the clouds across the gully. She swayed with the branches in the trees. But still she dreamt of somehow finding another way to dance. 
Contenu / Contents
Josephine loves to dance ballet…but she is a kangaroo and her little brother Joey thinks Josephine shouldn't dance but hop like all the other kangaroos. However, Josephine loves this sport and she dreams of being a professional ballet dancer. One day, a ballet show comes to town but the lead ballerina is injured. Josephine decides to have a go at replacing the lead ballerina…
Josephine wants to Dance is a great picture book about the importance of believing in your dreams and yourself. It encourages children to never give up whatever the situation. A very funny picture book about perseverance and ballet.
$12,14, 17,90 € (prix librairie)