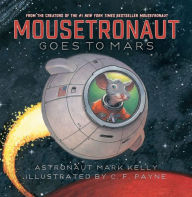 Moustronaut goes to Mars
Simon and Schuster / 2013
Auteur·rice : Mark Kelly
Illustrateur·rice : C.F. Paine
Les premières lignes / the first lines:
The Galaxy Rocket was just one week away from launching. It would be the first human mission to Mars. Even though Mars was Earth's neighbor, the astronauts would need to travel more than 35 million miles to get there.
And Meteor the Mousetronaut couldn't wait to go!
Contenu / content:
Mousetronaut Goes to Mars is one of the two chronicles of the Moustronaut series by retired NASA astronaut Commander Mark Kelly and renowned illustrator C.F. Payne.
3-2-1… blast off! The smallest member of the team, a mouse named Meteor, is back on board and ready to come to the rescue on an interplanetary adventure!
This charming story with lively illustrations is followed by a four-page afterword including detailed scientific back matter.
Video of the reading:
Scott Kelly (Mark Kelly's twin brother) readsMousetronaut Goes to Mars on the International Space Station: https://storytimefromspace.com/moustronaut-goes-to-mars/(run time: 9:37 minutes)
Pistes / Activities to participate in the festival:
Oral expression
Imagine you are a team of journalists for an American news TV program. Create a report about Meteor the Mousetronaut first on Mars. You will include pictures by C.F. Payne in the video (3 minutes maximum). You can make up an imaginary interview with Meteor the Mousetronaut. The best videos will be shown during the Children's Book Festival.
Written expression
Explore and research American astronaut Mark Kelly who is the author of Mousetonaut Goes to Mars, then create a slide-show about him. In your own words, give a short "biography" and explain the milestones of his career as an astronaut. The best slideshows will be displayed during the Children's Book Festival.
Niveaux école CM1-CM2 / collège 6°-5°