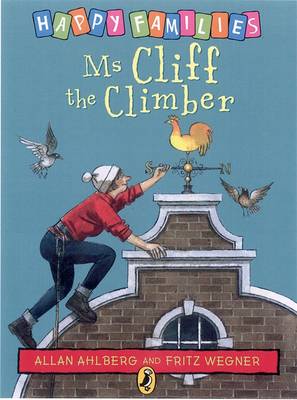 Ms Cliff the Climber
Puffin Books / 2005
Auteur·rice : Allan Ahlberg
Illustrateur·rice : Fritz Wegner
Les premières lignes/ The first lines 
Every morning Clara Cliff gets up. She puts on her climbing boots, her climbing clothes and her climbing hat – and climbs out of the window. In summer and winter, autumn and spring, Clara Cliff climbs round the town. She visits friends, does the shopping and takes the dog for a walk. Life has its ups… and downs.
Contenu / Contents 
Clara Cliff is keen on climbing. Her life is like a climbing adventure. She meets Clifford on top of Nelson's column. They marry and they have a daughter, Clarissa, who shares their passion for climbing. But life has its ups and downs. Clara divorces and becomes a single mother. Then she meets Claude, she remarries and they have a son, Clive.
Ms Cliff the Climber is a lovely story which deals with family life and climbing. Fritz Wegner's beautiful and detailed illustrations match very well Allan Ahlberg's simple and poetical text. The story can lead to discussions about everyday issues and how sport can shape life.
$3,80, 7,20 € (prix librairie)