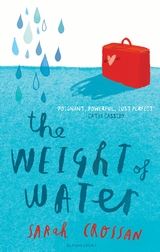 The weight of water
Bloomsbury Publishing PLC / 2013
Auteur·rice : Sarah Crossan

Les premières lignes / the first lines:

Leaving Gda'nsk Glówny
The wheels on the suitcase break
Before we've even left Gda'nsk Glówny.
Mama knocks them on some steps and
Bang, crack, rattle -
No more use.
There are
plastic bits
Everywhere.
It's hard for Mama carrying a suitcase
And a bulging laundry bag.
It's hard for Mma
With everyone watching.

Contenu / content: moving :

The Weight of Water is a novel written in verse. The story is about Kasienka and her mother who emigrate from Poland to England, in search of Kasienka's father. The teenage girl feels lonely with few friends in her new school and her heart-broken mother at home. But when someone special swims into her life, Kasienka learns that there might be more than one way for her to stay afloat.
The Weight of Water is composed of succinct lyrical poems which are beautifully written. The 228-page novel deals with immigration, prejudice, friendship, familiesand first love.
12,45 euros (prix librairie)
Sélection 3ème/2nde/1ère