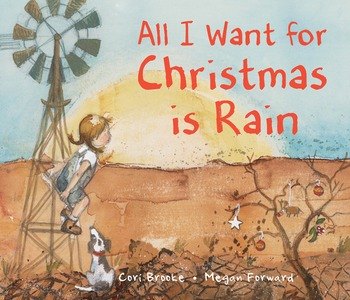 All I want for Christmas is rain
New frontier publishing / 2016
Auteur·rice : Cori Brooke
Illustrateur·rice : Megan Forward
Les premières lignes/ the first lines :

My parents are farmers. We needed the rain. So I went to town on a long shiny train. My mission was clear. I had hatched a great plan.

Contenu/contents :

The narrator, a young girl lives in Australia with her parents, who are farmers. It is summer and there is a drought. She asks Santa Claus if he can help her.



Lien youtube : https://www.youtube.com/watch?v=YzxFWrpztMA
Ce livre est un peu difficile à trouver.