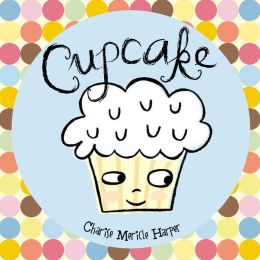 Cupcake
Disney pub / 2010
Auteur·rice : Charise Mericle Harper

Les premières lignes/ The first lines

« One day, in a big bowl, flour, sugar, eggs, milk and baking powder were all mixed together. And then, with just the right amount of baking in a toasty hot oven…Cupcake was born. After a special coat of icing, Vanilla Cupcake was creamy, white, perfectly plain and most certainly delicious. Being a friendly sort of cupcake, he quickly introduced himself to his new brothers and sisters. There was Happy-Face Cupcake, Chocolaty Chocolate Cupcake, Pink Princess Cupcake, Rainbow-Sprinkle Cupcake, Stripy Cupcake, Fancy Flower-top Cupcake, Polka-Dot Cupcake. Cupcake felt proud to be part of such a large and colorful family. But by the end of the day, Cupcake wasn't feeling any special anymore. He was sitting on the plate all alone. »

Contenu / Content

Cupcake is very happy to be part of a very large family with lots of different  brothers and sisters. But, after meeting his siblings, he quickly feels sad. He thinks nobody likes him because he is not as fancy as his siblings. Cupcake soon makes a new friend : Candle. Candle has the same problem as Cupcake. His candle siblings are all sparkling, except him. Candle has a lot of imagination and quickly comes up with all sorts of suggestions to find the best topping for Cupcake. A nice story about friendship and how friends can make you feel special. A sweet and cute picture book  which includes a recipe for vanilla cupcakes.


Magalie Bocquet

Pistes d'écriture/ Activities to participate in the festival

1 – Crée un cupcake original puis avec ta classe crée un diaporama ou un livret de 10 cupcakes et enregistre leurs noms. (Cycle 2)/ Create an original cupcake then, with your classmates, create a slide show or a booklet with 10 cupcakes and record their names.

2- Crée un cupcake puis présente-le. Ensuite, avec ta classe, crée un diaporama de 15 cupcakes et enregistre ta présentation. (Cycle 3)/ Create a cupcake and present it. Then, with your classmates, create  a slide show with 15 cupcakes and record all your descriptions.

3-Avec tes camarades, lis et mets en voix et en scène l'album Cupcake. Créez une vidéo de votre prestation et envoyez-la au concours de vidéo du festival du livre 2015 (6e – 5e) With your classmates, read and act  Cupcake  out. Create a video out of your play and send it to the festival's video challenge.




22,10 euros
Sélection 1er degré