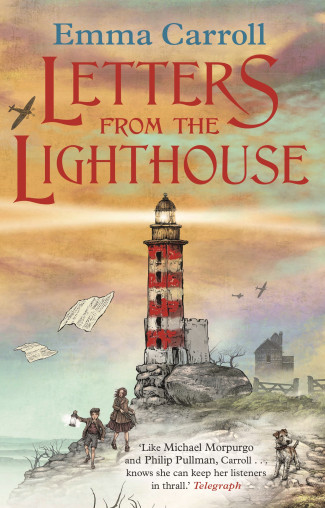 Letters from the lighthouse
Faber & Faber / 2017
Auteur·rice : Emma Carroll

Les premières lignes / the first lines:

KEEP CALM AND CARRY ON
We were halfway through the news when the air raid started. It was a Friday in January: we were at the Picture Palace for the 6 p.m. showing of The Mark of Zoro. All month the Luftwaffe had been attacking us, their bombs falling on London like pennies from a jar, so the fact they couldn't hold off for just a few measly hours made me hate the Germans that little bit more.

Contenu / content:

Letters from the Lighthouse is a historical fiction novel. The story is set in February 1941. As London is unsafe with the bombings, 12-year-old Olive and her little brother Cliff are evacuated to the Devon coast. There Olive must solve a mystery of her own: her older sister Sukie went missing in an air-raid and she had left a strange coded note in the coat she was wearing that night.
Letters from the Lighthouse is a gripping adventure which helps young readers understand what it means to live in a country at war. The 274-page novel is captivating as Emma Carroll brings her characters to life in this first-person narrative which tackles such issues as courage, grief, tolerance and friendship.


12,80 euros (prix librairie)
Sélection 3ème/2ne/1ère