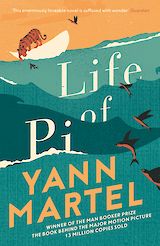 Life of Pi
Canongate books / 2003
Auteur·rice : Yann Martel

Les premières lignes/ The first lines :

My suffering left me sad and gloomy.
Academic study and the steady, mindful practice of religion slowly brought me back to life. I have kept up what some people would consider my strange religious practices. After one year of high school, I attended the University of Toronto and took a double-major Bachelor's degree. My majors were religious studies and zoology. My fourth-year thesis for religion studies concerned certain aspects of the cosmogony theory of Isaac Luria, the great sixteenth-century Kabbalist from Safed. My zoology thesis was a functional analysis of the thyroid gland of the three-toed sloth. I chose the sloth because its demeanour-calm, quiet and introspective-did something to soothe my shattered self.


Contenu/Contents:

After the tragic sinking of a cargo ship, one solitary lifeboat remains bobbing on the wild, blue Pacific. The only survivors from the wreck are a sixteen-year-old boy named Pi, a hyena, a zebra (with a broken leg), a female orang-utan… and a 450-pound Royal Bengal Tiger.
The scene is set for one of the most extraordinary works of fiction in recent years.



8,90 euros (prix librairie)
Sélection 1ère/Tle