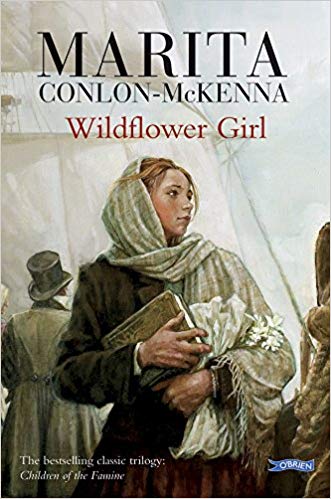 Wildflower Girl
O'Brien / 1991
Auteur·rice : Marita Colon-Mckenna

Les premières lignes/ the first lines:
Peggy ran in from school and straight away she noticed the large sheet of paper propped behing a jug on the kitchen dresser. She grabbed it.
'I don't believe it! I just don't believe it! We got a notice about going to America too. A few in school told me their families had got them. The whole town's talking about it'. She was bursting with excitement.
Eil looked across at her.
'Whisht, Peggy! Take it easy.'

Contenu/Contents :
The story of Irish emigrants of the nineteenth century lovingly told through the life of thirteen-year-old Peggy, who takes the treacherous sea journey all on her own to start a new life as a maid in a grand house in America. A story of courage, independence and adventure.
Prix : 9.35 €
Niveau Lycée: Seconde, Première, Première LELE