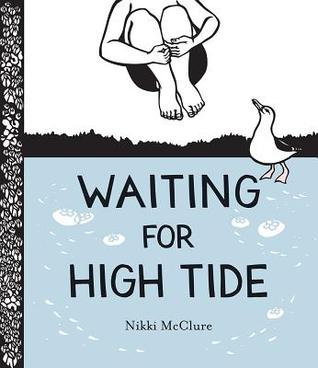 Waiting for high tide
Harry N. Abrams / 2016
Auteur·rice : Nikki Mc Clure

Les premières lignes / the first lines:

WAITING FOR HIGH TIDE.
I close my eyes and open them.
Close and open.
Still low tide.
I squint and wait.
There is a big stretch of mud between me and the water's edge. I want to swim, but I'd just get muddy. Or worse. I'd get stuck, and Grandma would have to rescue me.
It seems like I spend every day all hot summer long waiting for the water to creep back over the mud. I'm not alone. Crabs under the rocks, clams and worms burrowed deep, barnacles closed tight – they wait for high tide too. It takes six hours for the water to rise from low tide to high tide. That's a long time!
I WANT TO SWIM NOW.
INSTEAD, I SIT AND WAIT.

Contenu / content:

On a summer day, a young boy is on the beach and looks forward to swimming. But it's low tide. While waiting for high tide, he combs the beach for treasures, observes sea-birds and other creatures and helps his family to build a raft. At last, the sea comes in.
Waiting for High Tide is such a beautiful picture-book. The author-illustrator Nikki McClure has created a poetic story which is an ode to nature. The paper-cut illustrations along with the rich text offer the readers details to live the expedition on the sea-side.


33,50 euros (prix librairie)
Sélection 4ème/3ème